Your friendly, reliable residential electrician in Carine
Why Choose Hansberry Electrical Contractors?
At Hansberry Electrical Contractors, we place the highest importance on the safety of you and your family. When it comes to electrical installations, maintenance, and repairs, it is vital to enlist the services of a certified electrician in Carine. With our extensive 13 years of experience in the electrical industry, our team is fully committed to safeguarding you, your loved ones, and your home from any possible electrical hazards.
Lighting Installs Electrician Carine
At Hansberry Electrical, we prioritise staying up-to-date with the latest lighting solutions to provide you with energy-efficient options that not only lower your operating costs but also have exceptional durability. Our team is well-versed in installing various indoor and outdoor lighting solutions, including a diverse range of options such as:
General Electrical Carine
At Hansberry Electrical Contractors we provide efficient and effective electrical services for residential properties. Our top priority is to understand your preferences, requirements, and budgetary constraints to ensure that we deliver precisely what you desire. With our extensive expertise, we are well-equipped to handle a wide range of general electrical needs in your home. Additionally, we offer assistance with various specialised services,
Safety Switches (RCDs) and Smoke Alarm Testing
At Hansberry Electrical Contractors, the comfort of you and your family in your home is our utmost priority. We recognise the importance of regular maintenance for smoke alarms and safety switches to ensure compliance with safety regulations. It is highly recommended that both residential and rental properties undergo maintenance every six months to ensure the optimal functionality of these crucial safety devices.
When it comes to buying or selling a home, it is important to engage a licensed electrician to conduct the necessary electrical inspection in Carine.
At Hansberry Electrical Contractors, we offer comprehensive RCD and smoke alarm testing services for homes and workplaces throughout Carine, providing you with the peace of mind that your electrical systems are in compliance with safety standards.
Rewiring Electrician Carine
If your home was constructed prior to 1975, it is advised to consider rewiring. Old and outdated wiring poses significant hazards such as electric shocks, wire overheating, and potential fire hazards. Rewiring your home can eliminate these risks and also lead to decreased electricity costs by installing new, secure, and efficient wiring. To determine if your home requires rewiring, it is advisable to have a licensed and qualified electrician in Carine assess your property. Additionally, our rewire service at Hansberry Electrical Contractors includes the convenience of coordinating patching and painting, eliminating the need to hire separate contractors.
To determine whether your property requires rewiring, it is recommended to engage the services of a licensed and qualified electrician in Carine who can conduct a thorough inspection and review of your premises. Additionally, as part of our rewire service at Hansberry Electrical Contractors, we offer the convenience of organising patching and painting, eliminating the need to engage separate contractors for these additional tasks.
Fault Finding Electrician Carine
Ensure the protection of your home by arranging an electrical inspection to identify any possible faults in your electrical appliances and wiring.
Neglecting an electrical fault can result in grave outcomes, including leading to fatalities. Therefore, it is of utmost importance to promptly contact our team if you notice any irregularities in your residence. Safeguarding the safety of your home and family is our top priority.
Do you need a residential electrician to assess your home?
We can provide a safety inspection and detailed 5 page report for the safety of your home and service the Carine area.
New Homes and Renovations Electrician Carine
As your new construction takes place, the team at Hansberry Electrical collaborates closely with your builder during the planning phase to determine and fulfill your electrical fit out needs according to your specific preferences. Whether it's a renovation or extension project, we're also able to assist you. Ensuring compliance with safety regulations is important to safeguard the well-being of you and your family.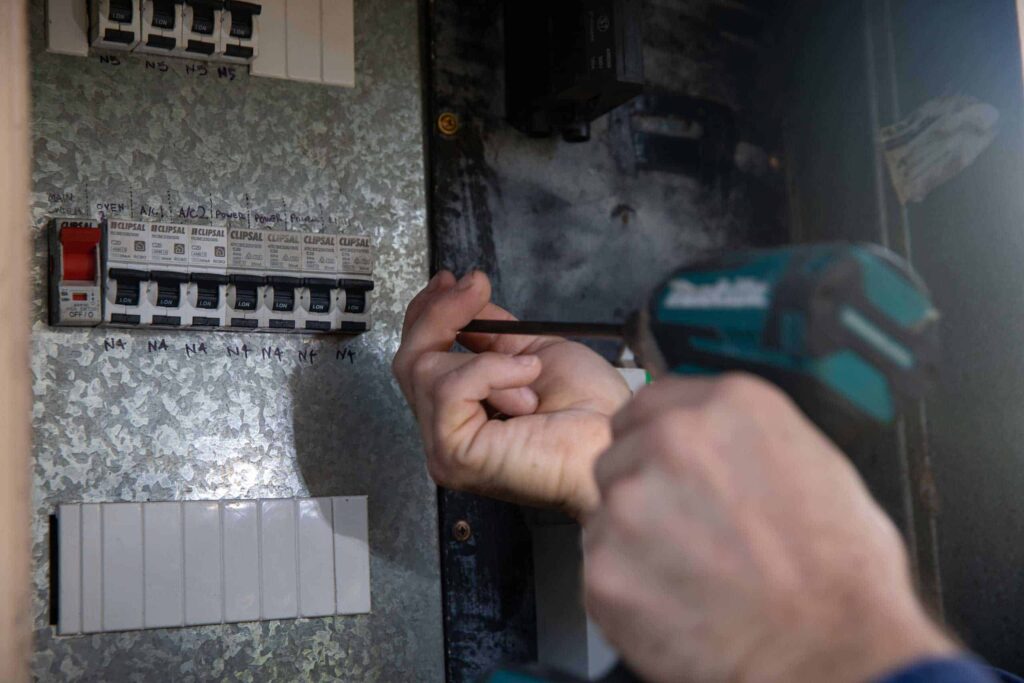 Communication/Data and Free-to-air Cabling Electrician Carine
Our team is always available to help you in installing free-to-air cabling and data points throughout your entire home. We acknowledge the challenges that arise when locating or relocating phone, internet, and television cabling, and we are here to offer our assistance. Our range of communication and data services includes:
Maintenance Electrician Carine
Are you aware of the importance of conducting regular inspections on your smoke alarms and electrical circuits to verify their optimal functioning? The safety of your home and loved ones heavily relies on essential electrical maintenance.However, routine checks can often slip our minds, which is precisely why Hansberry provides convenient maintenance plans. Our team will visit your home every six months to thoroughly examine your electrical components, reducing the risks associated with electrical faults and ensuring a secure living environment.
Reach out to our team via the button below and we'll get in touch about how our maintenance plan is ideal for your home. For air conditioning please see our air conditioning services page.
Residential and Commercial Electrical Services Carine
Carine is a suburb located 14 kilometres north of Perth's central business district (CBD) between Marmion Avenue and Mitchell Freeway. Its local government area is the City of Stirling.
Our favourite coffee spot is
Regular Coffee Company
. It is a popular coffee shop that offers a delightful coffee experience in a relaxed and welcoming atmosphere. With its inviting ambiance, it provides the perfect setting to unwind and savor a cup of freshly brewed coffee. Whether you're looking for your daily caffeine fix or a cozy spot to catch up with friends, Regular Coffee Company is the ideal destination for coffee enthusiasts seeking a memorable and satisfying coffee experience in Carine.
If you are located in Carine, our team at Hansberry can help. Assisting with all your electrical needs, we cover both indoor and outdoor electrical installation, maintenance, and repairs to keep your home in a safe condition for you and your family.