Your friendly, reliable residential electrician in Wembley
Why Choose Hansberry Electrical Contractors?
At Hansberry Electrical, we place the highest importance on the safety of you and your family. It is not uncommon for us to come across electrical work of a much lower standard than we pride ourselves in providing. When it comes to electrical installations, maintenance, and repairs, it is important to enlist the services of a certified electrician servicing the Wembley area. With our extensive 13 years of experience in the electrical industry, our team is fully committed to safeguarding you, your loved ones, and your home from any possible electrical hazards.
Lighting Installs Electrician Wembley
By staying on top of the latest lighting solutions available, our team at Hansberry Electrical ensures that we offer you energy-efficient lighting options that serve to reduce your running costs asl well as having long-lasting durability. Whether it's indoor or outdoor lighting, we're highly experienced in installing a wide range of lighting solutions, including:
General Electrical Wembley
At Hansberry Electrical Contractors we provide efficient and effective electrical services for residential and commercial properties. We take the time to understand your preferences, requirements, and budgetary constraints to ensure that we continually strive to over deliver. With our many years of experience we ensure that we are well-equipped to handle a wide range of general electrical needs in your home. Additionally, we offer assistance with the following specialised services, including:
Safety Switches (RCDs) and Smoke Alarm Testing
It is important to ensure the safety of you and your family at home. Regular maintenance of smoke alarms and safety switches is essential to meet safety regulations. It is recommended to have both residential and rental properties undergo maintenance every six months. 
When purchasing or selling a home, it can be assuring and sometimes life-saving to have a reliable electrician in Wembly to perform an electrical inspection. At Hansberry Electrical Contractors, we provide RCD and smoke alarm testing services for homes and workplaces in Wembley, guaranteeing compliance with safety standards.
Rewiring Electrician Wembley
If your home is built before 1975, strongly consider the possibility of rewiring. Outdated wiring can pose significant risks, such as electric shocks, wire overheating, and potential fire hazards. By rewiring your home, you not only mitigate these dangers but also benefit from reduced electricity costs through the installation of new, secure, and energy-efficient wiring. At Hansberry Electrical Contractors, we offer a comprehensive rewiring service that goes beyond just the electrical work. We also provide the convenience of organising patching and painting, eliminating the need to engage separate contractors. This ensures a streamlined process and a hassle-free experience for our customers.
Fault Finding Electrician Wembley
To ensure the safety of your home, it is important to schedule regular electrical inspections to identify any potential faults in your electrical appliances and wiring. Neglecting electrical faults can have serious consequences, even resulting in fatalities. Therefore, it is critical to promptly contact our team if you notice any abnormalities in your residence. By taking proactive measures and addressing electrical issues promptly, you can help safeguard your home and the well-being of its occupants.
Do you need a residential electrician to assess your home?
We can provide a safety inspection and detailed 5 page report for the safety of your home and service the Wembley area.
New Homes and Renovations Electrician Wembley
During the progress of your new construction, Hansberry Electrical works closely with your builder in the planning phase to identify and meet your specific electrical fit out requirements, tailored to your preferences. We are also available to support you in renovation or extension projects. Our priority is to ensure that all electrical work complies with safety regulations, protecting the well-being of you and your family.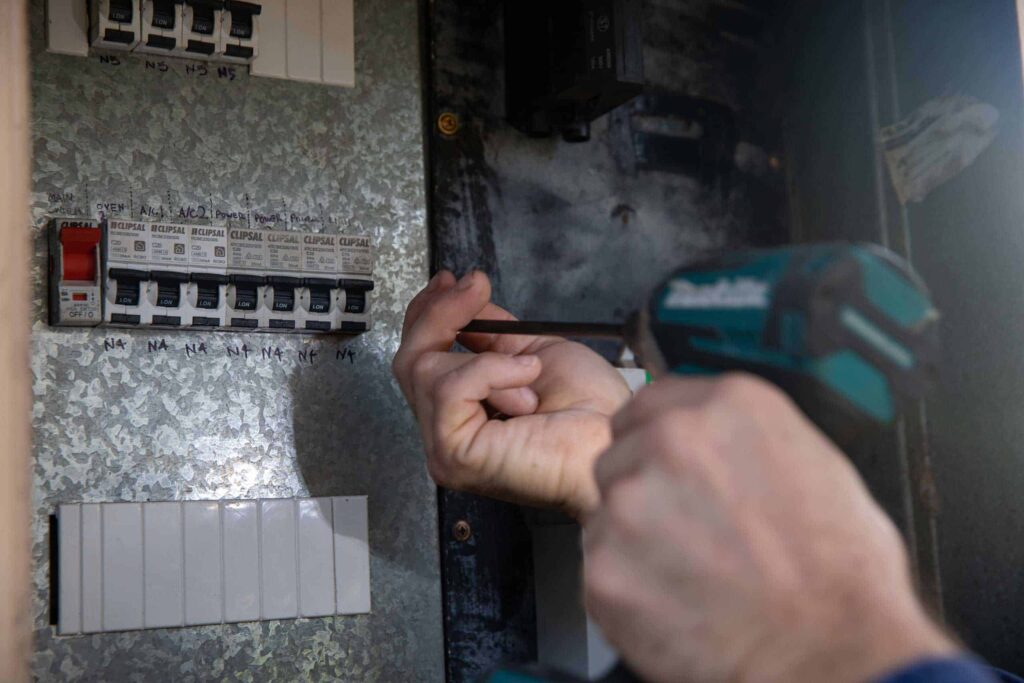 Communication/Data and Free-to-air Cabling Electrician Wembley
We are here to assist you in the installation of free-to-air cabling and data points throughout your entire home. We understand the difficulties involved in finding or moving phone, internet, and television cables, and our team is ready to help overcome these challenges. Our comprehensive range of communication and data services includes:
Maintenance Electrician Wembley
Understanding the significance of regular inspections for smoke alarms and electrical circuits is important in ensuring they are operating at their best. We provide the essential electrical maintenance to ensure the safety of your home and loved ones. 
Unfortunately, it is not uncommon for routine checks to be overlooked, which is precisely why Hansberry offers convenient maintenance plans. Our team will make biannual visits to your home, thoroughly examining your electrical components to minimize the chances of electrical faults and guarantee a secure living environment.
Reach out to our team via the button below and we'll get in touch about how our maintenance plan is ideal for your home. For air conditioning please see our air conditioning services page.
Residential and Commercial Electrical Services Wembley
Wembley is a western suburb of Perth, Western Australia, located within the Town of Cambridge. Located 5 km north-west of the Perth CBD it's prominent intersections include Grantham Street, Cambridge Street, Salvado Road, Selby Street and Mitchell Freeway. The notable and more well known streets in Wembley are Cambridge Street, Harborne Street, Grantham Street and Selby Street.
The suburb is upper middle class, with a medium population density. Wembley is home to Bold Park Community School, Lake Monger Primary, Wembley Primary School and the Speech and Hearing Centre. Lake Monger is a large lake located on the outer edges of the suburb.
Our favourite coffee spot is
Mellow Coffee
, a delightful coffee shop located in the vibrant area of Wembley, known for its relaxed and welcoming atmosphere. This cozy café is dedicated to serving high-quality coffee and creating a comfortable space for customers to enjoy their beverages.
The coffee at Wembley Mellow is carefully sourced and expertly prepared by skilled baristas. Whether you prefer a classic espresso, a creamy latte, or a flavorful pour-over, you can expect a rich and satisfying coffee experience. The café takes pride in using freshly roasted beans to ensure maximum flavor and aroma in every cup.
If you are located in Wembley, our team at Hansberry can help. Assisting with all your electrical needs, we cover both indoor and outdoor electrical installation, maintenance, and repairs to keep your home in a safe condition for you and your family.
Electrical Contractor servicing Perth, Western Australia